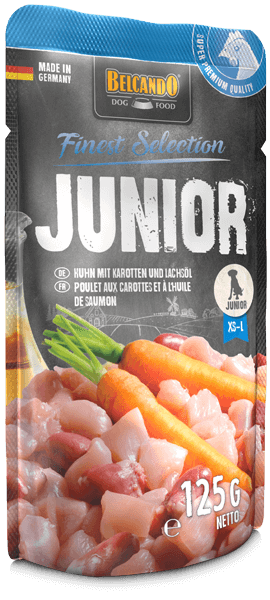 Belcando

Junior kyllingekød med gulerødder og lakseolie
Kvalitet - lavet i Tyskland
Complete dog food for puppies and young dogs
Excellent recipes in practical single portions. Juicy meat enhanced with fine ingredients and gently cooked in single-portion pouches. Cold-pressed safflower oil supplies essential polyunsaturated fatty acids. Extraordinarily tasty and digestible, BELCANDO® FINEST SELECTION is ideal for sensitive or finicky dogs.
BELCANDO® FINEST SELECTION Dog Food is made of carefully and gently processed natural products without any artificial aromas, colourings or preservatives.
Average quantities for feeding puppies and young dogs are listed in the table shown. Because of individual differences between puppies of different breeds, the amounts given can vary by +/- 20%. The comparison of the individual weight curve with charts showing growth typical for the breed is recommended. Fresh drinking water should be available at all times. Once open, store in the fridge for max. 24 hours.
| | | | | |
| --- | --- | --- | --- | --- |
| Age in months | Expected weight of the dog (kg) | Expected weight of the dog (kg) | Expected weight of the dog (kg) | Expected weight of the dog (kg) |
| | 2,5 - 5kg | 10 - 15kg | 25 - 35kg | 45 - 55kg |
| 1,5 | 200 - 300g/day | 490 - 600g/day | 720 - 900g/day | 900 - 1000g/day |
| 3 | 270 - 380g/day | 740 - 810g/day | 1080 - 1330g/day | 1380 - 1550g/day |
| 6 | 290 - 430g/day | 780 - 930g/day | 1300 - 1570g/day | 1750 - 1950 g/day |
| 9 | 280 - 410g/day | 760 - 890g/day | 1170 - 1575g/day | 2200 -2450g/day |
| 12 | 280 - 420g/day | 740 - 950g/day | 1375 - 1660g/day | 2450 - 2650g/day |
Alleinfuttermittel für Welpen und Junghunde
Sammensætning
Chicken meat, heart, liver, gizzard (67 %); Chicken broth (27.0 %); Carrots (4.0 %); Salmon oil (1.0 %); Egg shells, dried (0.5 %); Minerals (0.5 %)
Analytiske bestanddele
Protein 11.0 %;
Fat content 7.0 %;
Crude ash 1.9 %;
Crude fibre 0.4 %;
Moisture 78.0 %;
Calcium 0.26 %;
Phosphorus 0.18 %
Tilsætningsstoffer pr. kg
Nutritional additives:
Vitamin D3 200 IU; Vitamin E (as alpha-tocopherol acetate) 50 mg; Manganese (as manganesesulphate, monohydrate) 2 mg; Zinc (as zincsulphate, monohydrate) 20 mg; Iodine (as calciumiodate) 0.2 mg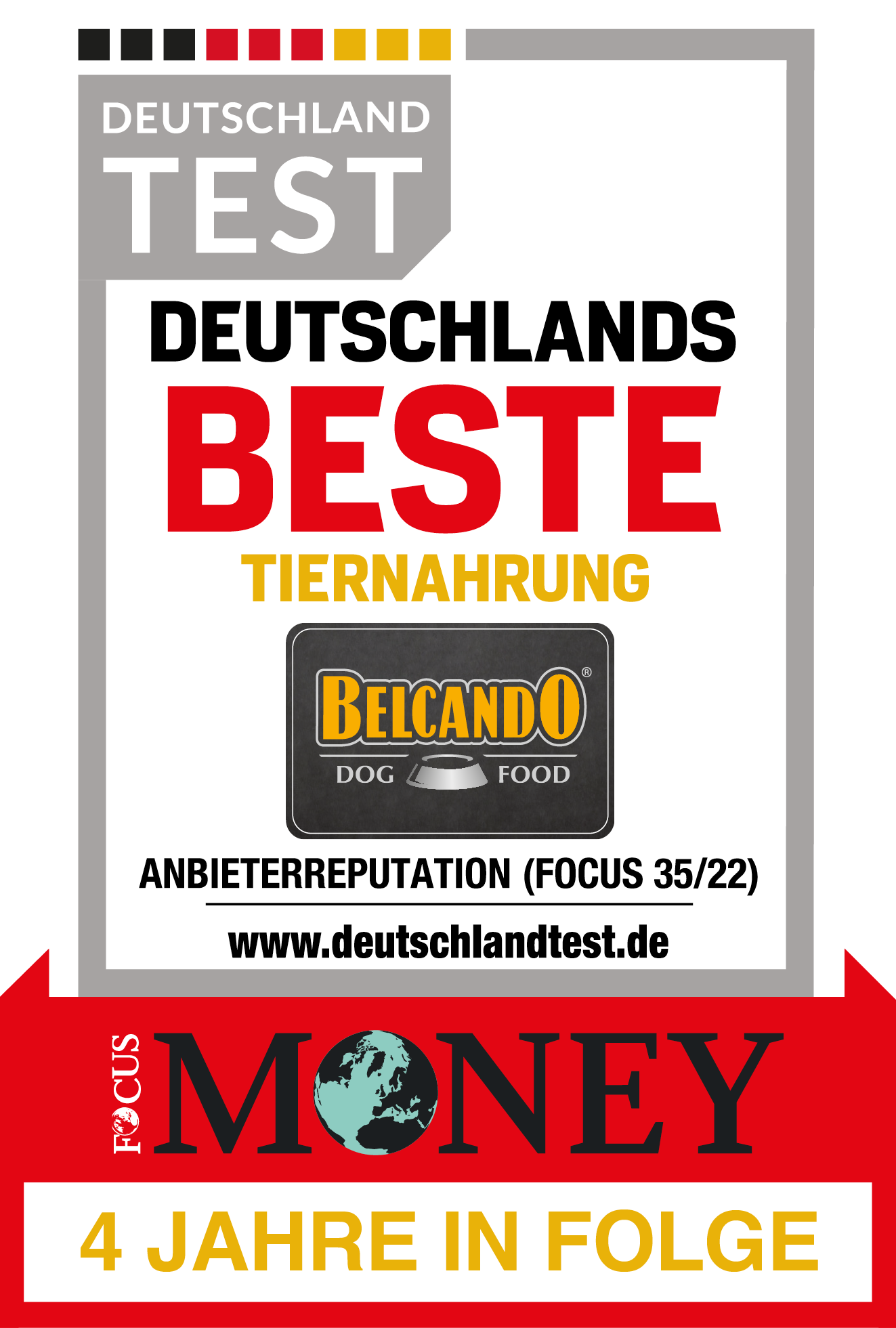 Vort kvalitetsløfte
Fremstillet i Tyskland

Garanteret af de bedste råvarer

Bedste smag og fordøjelighed

Kødprodukter kun fra dyr som er velegnet til menneskeføde

Med ekstra frisk kød
Vi er glade for at kunne gøre det uden dette
Dyreforsøg

Sojaprotein

Kunstige farve-, smagsstoffer og konserveringsmidler

Hvede (bortset fra Adult Multi-Croc)